A Warm Welcome To Ashford Common Baptist Church (Sunbury)
I'm delighted to welcome you to our website. We are a small friendly church meeting in Sunbury. We come from a variety of backgrounds and welcome all who visit us, whether that's for our informal but heart-felt worship or to our home-based fellowship and bible study groups. We started in 1983 as a part of another local Baptist Church, but most of our members have no specific Baptist background when they join us.
Why not visit us soon, but in the mean time I hope our web-site will help you find out more about us.
Nigel Degenhart - Pastor
COVID 19
Following the social distancing advice during the Coronavirus situation we are reminded that "I am convinced that neither death nor life, neither angels nor demons, neither the present nor the future, nor any powers, neither height nor depth, nor anything else in all creation, will be able to separate us from the love of God that is in Christ Jesus our Lord". (Romans 8:38-39 - NIV)
If you need help locally or advice and encouragement anywhere please contact us
For the time being our regular programme has been adapted.
Sundays via Zoom at 10:30 – For our Zoom Meetings you can click here.
Our speakers for the next few weeks will be
28 February Nigel Degenhart
07 March David Priddy
14 March Chris Mills
21 March Mark Gilks
28 March Nigel Degenhart
Fortnightly Prayers at 18:30, again via Zoom click here
We also meet togther via Zoom during the week. Please check this here on our Weekdays page.
Why not find out more about Christianity online?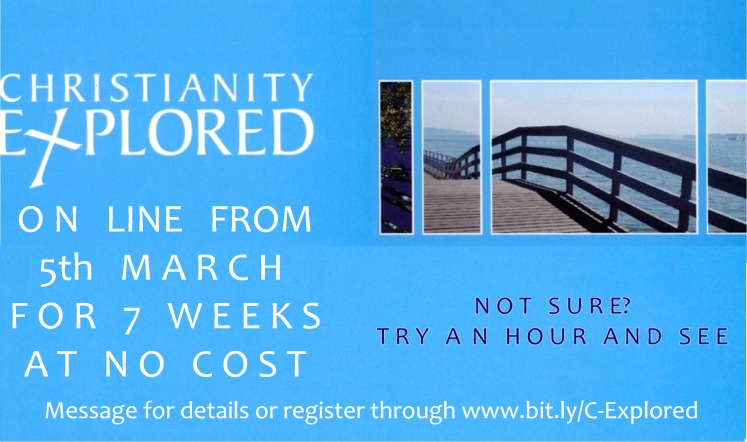 You can register for free here: count me in
Our normal programme is as follows:
Wednesdays at 10:00 led by Hilary and
Thursdays at 18:30 Home groups led by Chris
Fridays at 18:30 for Fellowship and a Biblically centred Reflection led by a Church Leader
We provide a short daily inspirational thought via sms text message and WhatsApp. To be added to the list please email your mobile phone number.
If you would like someone to talk to by phone or skype / WhatsApp please contact us through +44 7941 514046
_________________________
Details of any of these activities from David
on 01784 245989 or Click to e-mail us
We appreciate the freedom we have to worship freely in the UK and are concerned for those suffering persecution for their faith. We invite you to pray with us for them. For today's focus please click here
To find out more about Christianity, why not take a look at Christianity's webiste